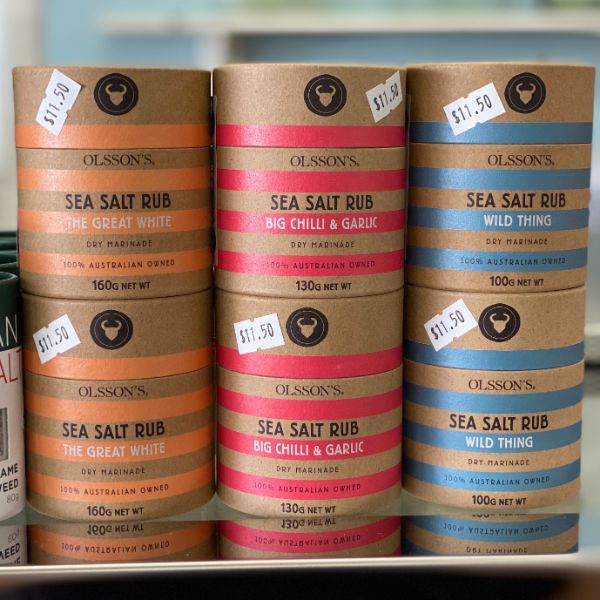 Olsson's Sea Salt Rubs
Regular price $11.50 Sale
Flavour Choices: 
Great White - The tangy mix of Sea Salt, Cumin, Smoked Paprika, Fennel and Cloves brings everyone's taste buds to their knees.
Big Chilli and Garlic - Its only ingredients are Australian sea salt flakes, chilli and dried garlic; perfect balanced to enhance every dish.
Wild Thing - Giving every dish a warm hug and the feeling of home, this sea salt rub is made up of Juniper berry, Thyme Leaves, Rosemary, Onion Powder and Sea Salt Flakes.
It's so Rosemary - Perfectly dried Rosemary, dried garlic and Australia Sea Salt Flakes will transform your dish into a flavoursome meal that warms your soul.
Salt Bush & Mountain Pepper Leaf - The hardy Saltbush leaves must be one of Australia's tastiest herbs. Mountain Pepper Leaf is the savoury surprise of the Australian bush an earthy, spicy flavour with complex floral elements and a lingering mild heat.
Redgum - Olsson's sea salt flakes smoked over Australian Red Gum Wood for 72hrs.
Rare Dry Gin Salt - Four Pillars Gin have dehydrated their Spent Rare Dry Gin botanicals and blended them with Olsson's "sel gris" Marine Mineral Grey Salt to create a stunning & unique seasoning.